<span class="caps">NYC</span> Trunk Line
NYC Trunk Line
uni­fy­ing the region
The ReThinkNYC Trunk Line estab­lishes a web of con­nec­tiv­ity between all of the region's com­muter rail lines, sub­ways, bus­es, and light-rail. By unit­ing com­muter rail on a Trunk Line that runs along the North­east Cor­ri­dor, com­muters gain easy access to each of the four land mass­es that make up the NYC area.
What is NYC Trunk Line?
The NYC Trunk Line con­verts New York's dis­parate region­al rail net­works into a uni­fied through-run­ning sys­tem mod­eled on Paris's RER net­work. In Paris, they had a num­ber of com­muter rail lines that ter­mi­nat­ed at var­i­ous loca­tions inside Paris. They trans­formed this sys­tem into a sin­gle, uni­fied net­work. Commuter rail lines from the east were paired with those from the west and north with south. Today, trains race across Paris mak­ing numer­ous stops where rid­ers can trans­fer to oth­er com­muter or metro lines reach­ing their des­ti­na­tion more effi­cient­ly. Furthermore, it sim­pli­fied trav­el between sub­ur­ban regions.
New York already has most of the infra­struc­ture nec­es­sary to trans­form its com­muter rail into a RER-style through run­ning sys­tem. Although, rail lines are present­ly divid­ed between Grand Central, Hoboken and Penn Station, most already go into Penn and Penn Station sits in the mid­dle of Amtrak's Northeast Corridor line between Washington and Boston. Therefore, the chal­lenge is to con­nect the dis­con­nect­ed lines into the Northeast Corridor and to build enough track capac­i­ty along this route to accom­mo­date all of the lines.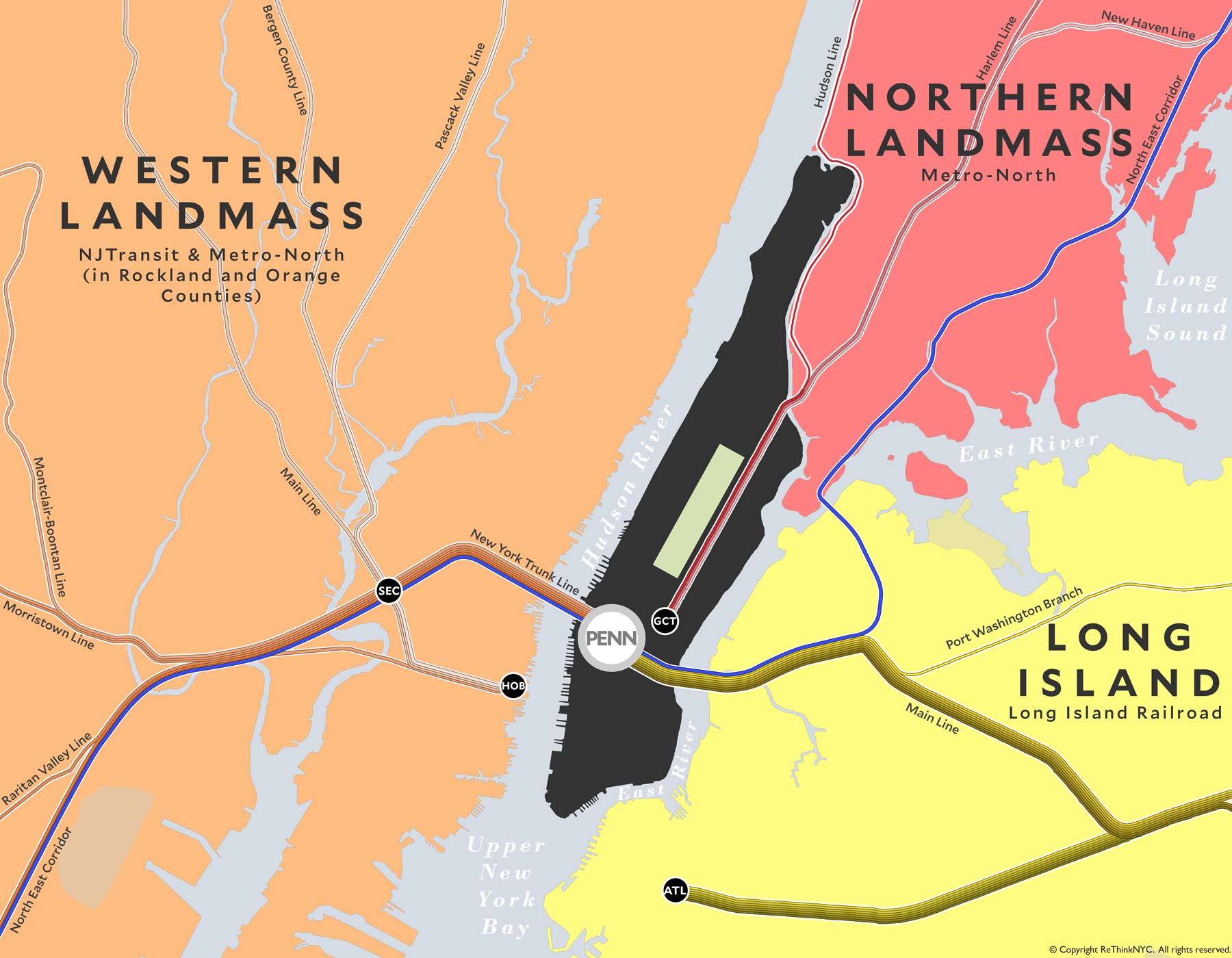 The ReThinkNYC Trunk Line plan solves this prob­lem by con­nect­ing the dis­con­nect­ed lines–Metro-North's Hudson and Harlem Lines and New Jersey Transit's Bergen County Lines–to the Northeast Corridor at Port Morris, the Bronx and Secaucus, NJ, respec­tive­ly. To sup­port this increased train traf­fic, the plan adds two tracks between Sunnyside, Queens and Port Morris, the Bronx. Amtrak already plans to add two tracks between Newark, NJ and Penn Station New York with their Gateway pro­pos­al. Together, the­se plans would cre­ate a four track trunk line that unit­ed all of the region's rail lines togeth­er with four sta­tions along the route: Secaucus, Penn Station, Sunnyside and Port Morris.
Four Landmasses,
One City
There are four land mass­es that make up the New York City area: Manhattan, New Jersey, Long Island, and the Bronx. The major trans­porta­tion hubs along the Trunk Line are locat­ed at each of the­se mass­es. This makes it pos­si­ble for con­nec­tiv­i­ty between local, city-wide and region­al trans­porta­tion sys­tems.
The exist­ing sta­tions, Penn and Secaucus Junction, would work with two new sta­tions, Port Morris and Sunnyside, to fur­ther max­i­mize con­nec­tiv­i­ty to the Bronx and Queens. Sunnyside would be adja­cent to the Queens Plaza sub­way stop. The Port Morris Station would be locat­ed at the south­ern tip of the Bronx where rides will be able to trans­fer between the Harlem and Hudson lines (before they branch off at 142nd Street) and the pro­posed Second Avenue Subway (Q) exten­sion. Additionally, LaGuardia Airport would be con­nect­ed via an air­train. The Trunk Line sta­tions would also be con­nect­ed to expan­sive light rail and bus net­works.
Penn Station's con­ges­tion and capac­ity lim­i­ta­tions large­ly stem from how the sta­tion oper­ates. It is real­ly three sta­tions in one: a ter­mi­nal for Long Island Rail­road (LIRR) from the east, a ter­mi­nal for NJTran­sit from the west, and a through-sta­tion for Amtrak. Ter­mi­nals are inef­fi­cient, and at Penn it is not uncom­mon for trains to wait 10 min­utes before enter­ing a plat­form; nor is it uncom­mon for a 10-min­ute line of pas­sen­gers to clus­ter around the esca­la­tor access to a plat­form. These delays are so ubiq­ui­tous that they are now built into sched­ules.
The ReThinkNYC plan solves the­se prob­lems by mov­ing Penn's ter­mi­nal func­tions to Port Morris, the Bronx (NJT and Amtrak) and Secaucus, NJ (LIRR). Widening plat­forms and adding ver­ti­cal access to Moynihan Station with addi­tion­al­ly alle­vi­ate the all-too com­mon chaos for pas­sen­gers trans­fer­ring at Penn Station.
Because of its unique loca­tion sur­rounded by lega­cy rail lines, ReThink Stu­dio envi­sions Secau­cus Junc­tion as a major trans­porta­tion hub for rail access with­in New Jersey, to NYC, and through­out the region. The New Jersey coast has seen a lot of devel­op­ment in recent years, but with­out ade­quate access to rail, devel­op­ments are dis­con­nect­ed, which stymies fur­ther growth. The ReThinkNYC pro­posal cor­rects this through a major rail sta­tion at Secaucus Junction, a light rail sys­tem that makes use of an abun­dance of aban­doned right-of-way through­out east­ern New Jersey.
Sunnyside Station will be the cor­ner­stone of a larg­er plan to trans­form the neigh­bor­hood into a new high-den­sity office dis­trict. The sta­tion will be ser­viced by long-dis­tance and com­muter rail, sub­way, local bus­es, and a new Brooklyn/Queens Light Rail Network. By mov­ing Sunnyside's rai­l­yard to the Bronx, it will be pos­si­ble to imple­ment through-run­ning in Sunnyside and to con­struct a new 280-acre Central Park in Queens around the sta­tion. The park, the tran­sit hub, and rezon­ing will spur the devel­op­ment of res­i­den­tial and office space in the sur­round­ing neigh­bor­hood. The park will also provide space for a relo­cat­ed Madison Square Garden – an insti­tu­tion that has his­tor­i­cally been moved with the growth of the City to new dis­tricts.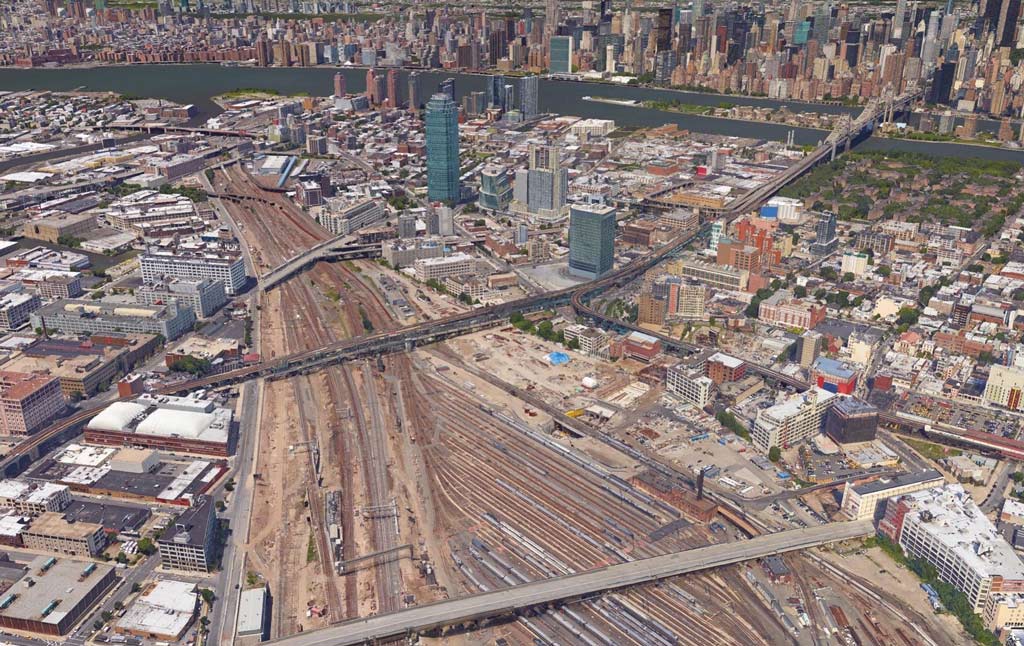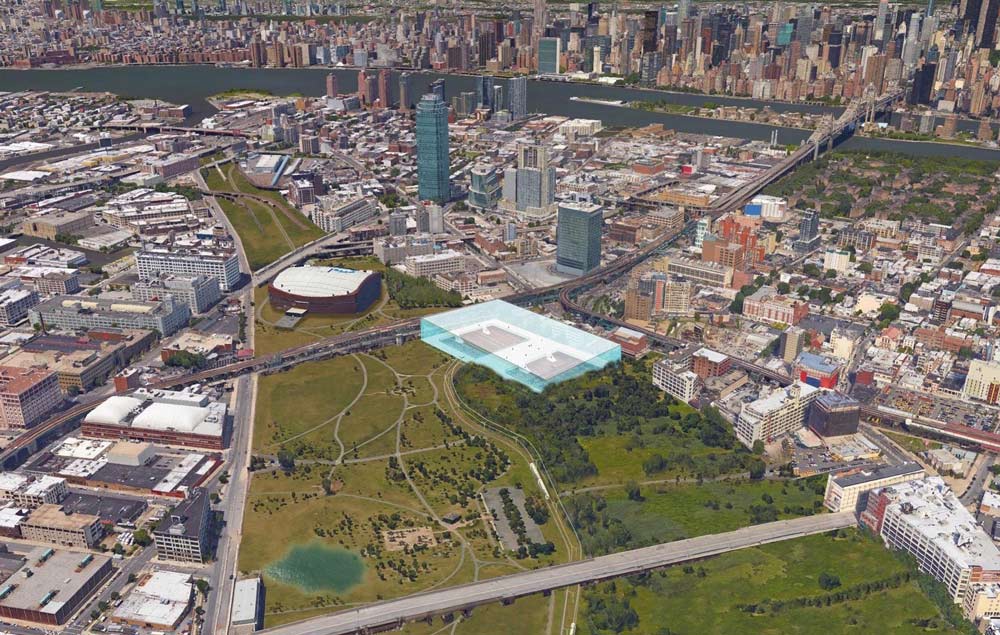 The con­nec­tiv­i­ty of Sunnyside Station stems from the prox­im­i­ty of the Northeast Corridor and a num­ber of sub­way lines. With the estab­lish­ment of the NYC Trunk Line, Sunnyside will provide com­muter rail access to NJ Transit, Metro North, LIRR, and Amtrak. The con­ver­gence of sev­en sub­way lines brings the con­nec­tiv­i­ty of mid­town to Queens.
With a new bus sta­tion and a light-rail sys­tem, Sunnyside Station will provide access not just to Manhattan and the region but with­in Brooklyn and Queens. This kind of con­nec­tiv­i­ty, unprece­dent­ed in Queens, will stim­u­late the devel­op­ment of hous­ing and office space, alle­vi­at­ing the sev­ere short­age of both that afflicts the core of New York.
A major com­po­nent of this trans­porta­tion net­work is ReThink Studio's pro­pos­al for a Brooklyn/Queens Light Rail Network, to be announced in August 2016.
Sunnyside, Queens is cur­rent­ly an under­uti­lized neigh­bor­hood with a mas­sive rail yard seg­re­gat­ing the area from Long Island City, Astoria, and the water­front. As part of the rail yard, the Northeast Corridor tra­vers­es right through Queens, but the clos­est stop is at Penn Station in Manhattan.
The ReThinkNYC plan includes an inter­modal trans­porta­tion hub to be built in Sunnyside, which will provide con­nec­tions between long-dis­tance rail, com­muter rail, sub­way, light rail, and bus.
Unlike oth­er pro­pos­als for Sun­ny­side, the ReThinkNYC plan would not allow for com­mer­cial and res­i­den­tial devel­op­ment on top of the site itself. Instead, the exist­ing low-den­sity com­mer­cial areas adja­cent to Sun­ny­side would rede­velop over time by rezon­ing the area for high-den­sity, mixed-use devel­op­ment. Thus, an oppor­tu­nity is cre­ated to extend com­mer­cial indus­try from Mid­town Man­hat­tan across the East River and solve the hous­ing and com­mer­cial office space dual-crises.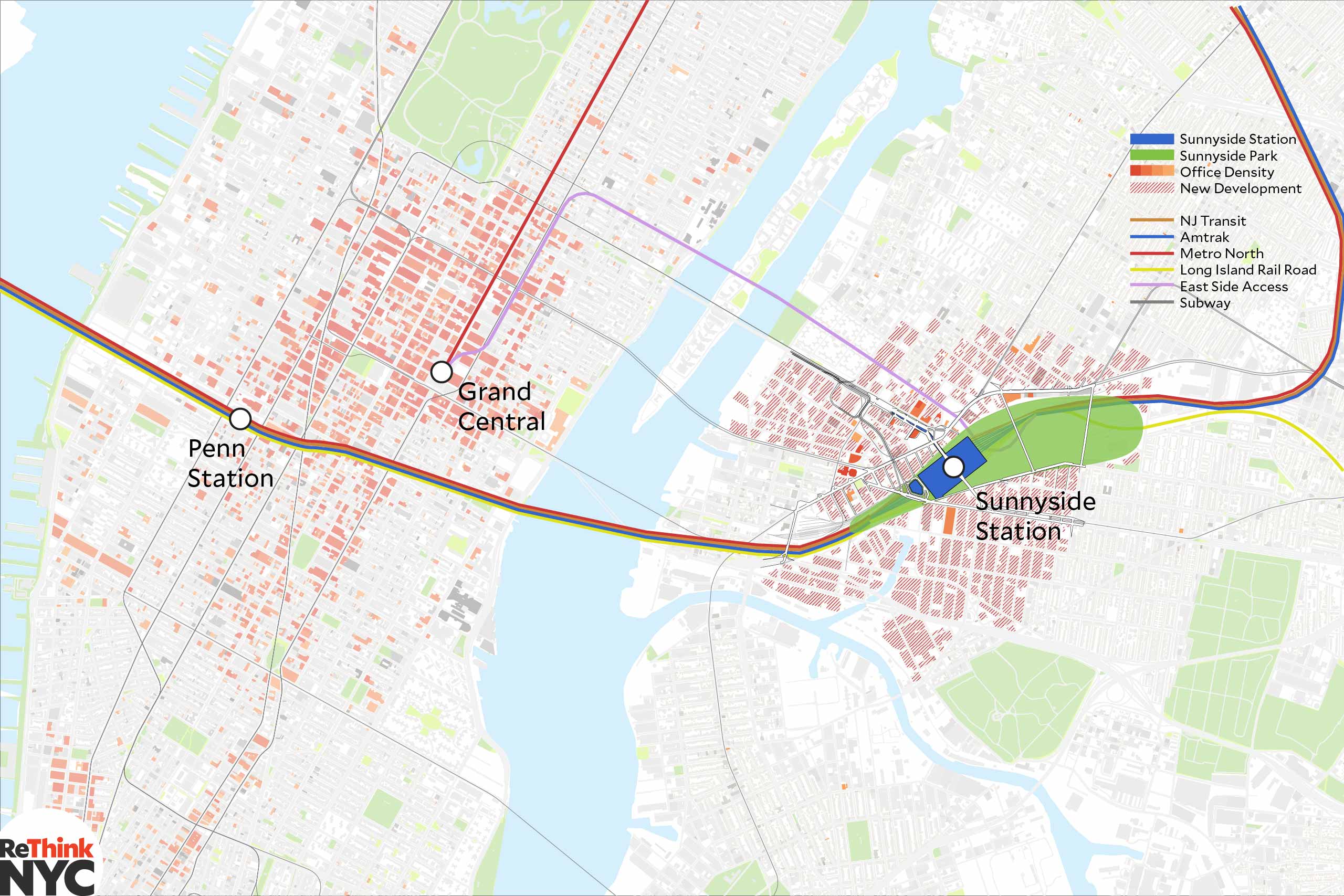 Port Mor­ris Sta­tion will be the north ter­mi­nal for the NYC Trunk Line. The sta­tion, locat­ed in the south Bronx, will be a region­al mass tran­sit hub for the north land­mass of New York State and Con­necti­cut. The station's site and con­text accom­mo­date con­nec­tions to NYC, LGA Airport, along the NYC Trunk Line and Northeast Corridor, and along local bus routes. With the com­ple­tion of the sta­tion, an adja­cent con­ven­tion cen­ter, and sup­port­ing devel­op­ment, Port Morris will encour­age oth­er growth in the South Bronx, both across the Bruckner Expressway and along its water­front.
Connecting Subways to Trunk Line Hubs
New Construction Detailed
New York already has the infra­struc­ture for a through-run­ning trunk line— the Northeast Corridor—which runs through the City from New Jersey, into Manhattan (via Penn Station), Queens, and the Bronx before con­tin­u­ing towards New Haven.
ReThinkNYC pro­pos­es using the Northeast Corridor Right of way as the NYC Trunkline for a through run­ning-ser­vice, that would serve all the region's rail lines. It would begin at Secaucus, NJ where NJ Transit's Bergen lines would join (via Secaucus Loop pro­pos­al), and end at Port Morris, the Bronx, where Metro-North's Harlem and Hudson lines would be con­nect­ed (via an aban­doned line and a new short tun­nel). Rail yards would need to be built at each end. Amtrak's Gateway tun­nel pro­pos­al would upgrade most of this route to four tracks.