Penn Sta­tion is the busiest and most impor­tant trans­porta­tion hub on the North­east Cor­ri­dor, and yet the sta­tion is not oper­at­ing at its full poten­tial. In its cur­rent lay­out, Penn Station is prac­ti­cally three sta­tions in one, with sep­a­rate tracks and con­courses for Long Island Rail Road, New Jersey Transit, and Amtrak. Penn Station has 21 tracks, car­ry­ing 600,000 pas­sen­gers a day while oper­at­ing pri­mar­ily as a ter­mi­nal stub track sta­tion. Trains that ter­mi­nate at Penn Station reverse direc­tion when leav­ing the sta­tion, result­ing in under­uti­lized plat­forms and over-con­gested tracks.
Terminal sta­tions force all trains to share the lim­ited track access in and out of the sta­tion. Because a train enters and leaves on the same set of tracks, trains cross paths as they back in or out, cut­ting off all traf­fic to the sta­tion as a sin­gle train enters or leaves. Through-run­ning, on the oth­er hand, elim­i­nates this inef­fi­ciency by run­ning trains through the sta­tion. Terminal ser­vices are bet­ter suit­ed for sta­tions that do not have high rid­er­ship and many trans­fer­ring pas­sen­gers.

Through-run­ning increas­es capac­i­ty at con­gest­ed sta­tions, while pro­vid­ing a region­al line con­nect­ing to the city cen­ter.
Through-Running is More Connective and Efficient
In a through-run­ning rail sys­tem, trains that car­ry pas­sen­gers to and from the urban core do not ter­mi­nate in the cen­tral busi­ness dis­trict (CBD); instead, all rolling stock trav­els through the CBD and ter­mi­nates beyond the cen­tral core of the city, often at a much less busy sta­tion. In oth­er words, the city cen­ter is locat­ed along the mid­dle of a train route, not as the first or last stop. This is an effi­cient sys­tem because it decreas­es the amount of time required for each train to dwell at the high-traf­fic plat­forms in the city cen­ter. In the case of Penn Station, elim­i­nat­ing the exist­ing con­flicts by instat­ing through-run­ning would increase the busy station's capac­ity by as much as 25% with­out adding tracks.
While oth­er cities such as Paris and London have mul­ti­ple cen­tral busi­ness dis­tricts, New York has one in Manhattan. This means that few pas­sen­gers are trav­el­ing across the city so much as into the city. In terms of train ser­vice, this pro­duces a one-way flow – inbound in the morn­ing and out­bound in the evening. The effi­ciency of through-run­ning is most evi­dent when com­par­ing Penn Station to sta­tions with sim­i­lar ser­vice loads. For instance, Paris' Gare de Châtelet – Les Halles serves almost half a mil­lion pas­sen­gers a day who con­nect between three com­muter rail lines and six sub­way lines. Châtelet – Les Halles has 7 tracks and 4 plat­forms that serve 120 trains per hour, com­pared to Penn's 21 tracks and 11 plat­forms that serve 100 trains per hour at max­i­mum capac­ity. Paris' abil­i­ty to accom­mo­date a larg­er vol­ume is made pos­si­ble by the station's use of through-run­ning.
Unlike European cities, New York's com­muter sys­tem is run by mul­ti­ple agen­cies and cross­es mul­ti­ple polit­i­cal bound­aries. Unification will require the coop­er­a­tion of mul­ti­ple autonomous fed­eral, state, and munic­i­pal gov­ern­ments, as well as pri­vate share­hold­ers.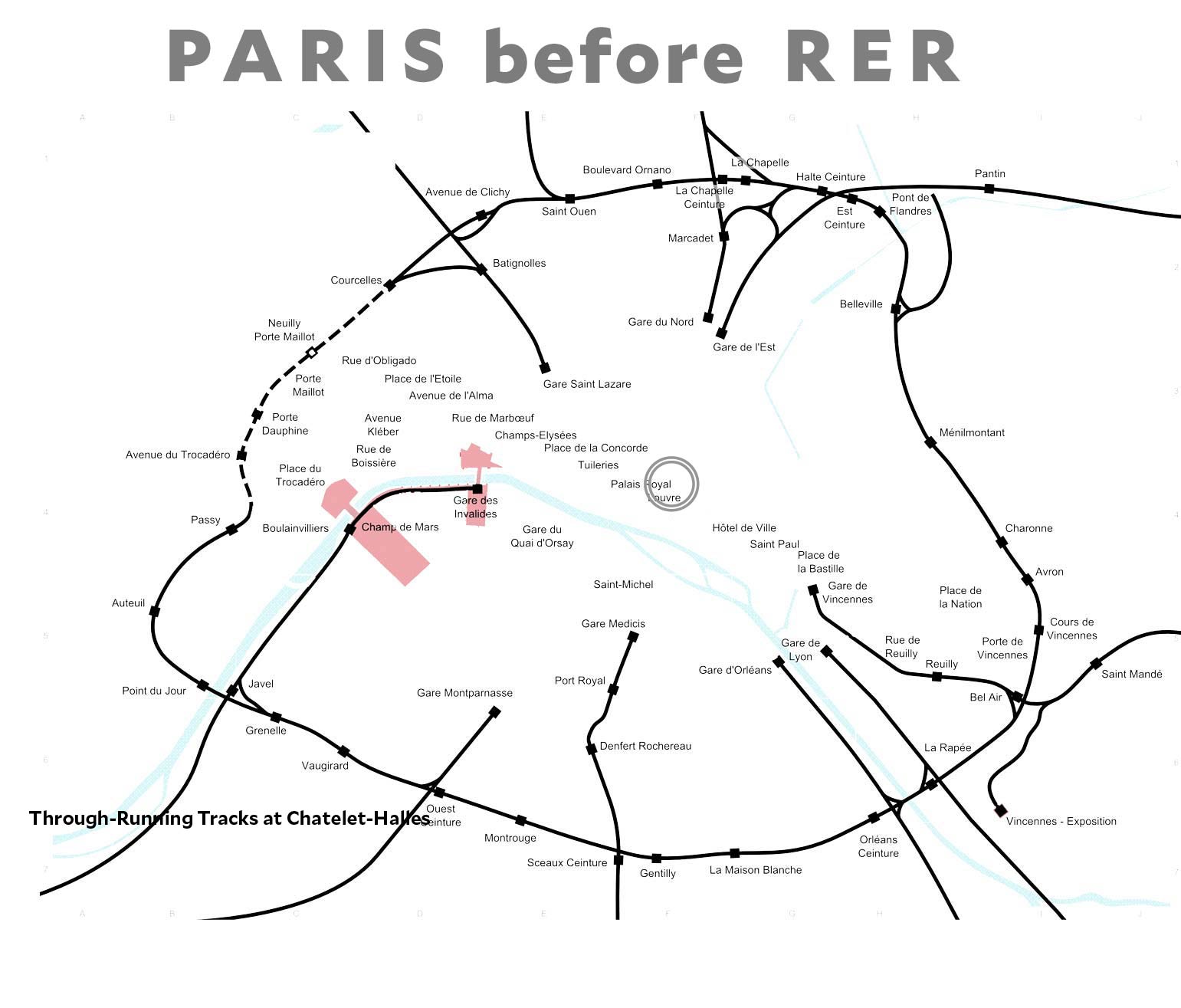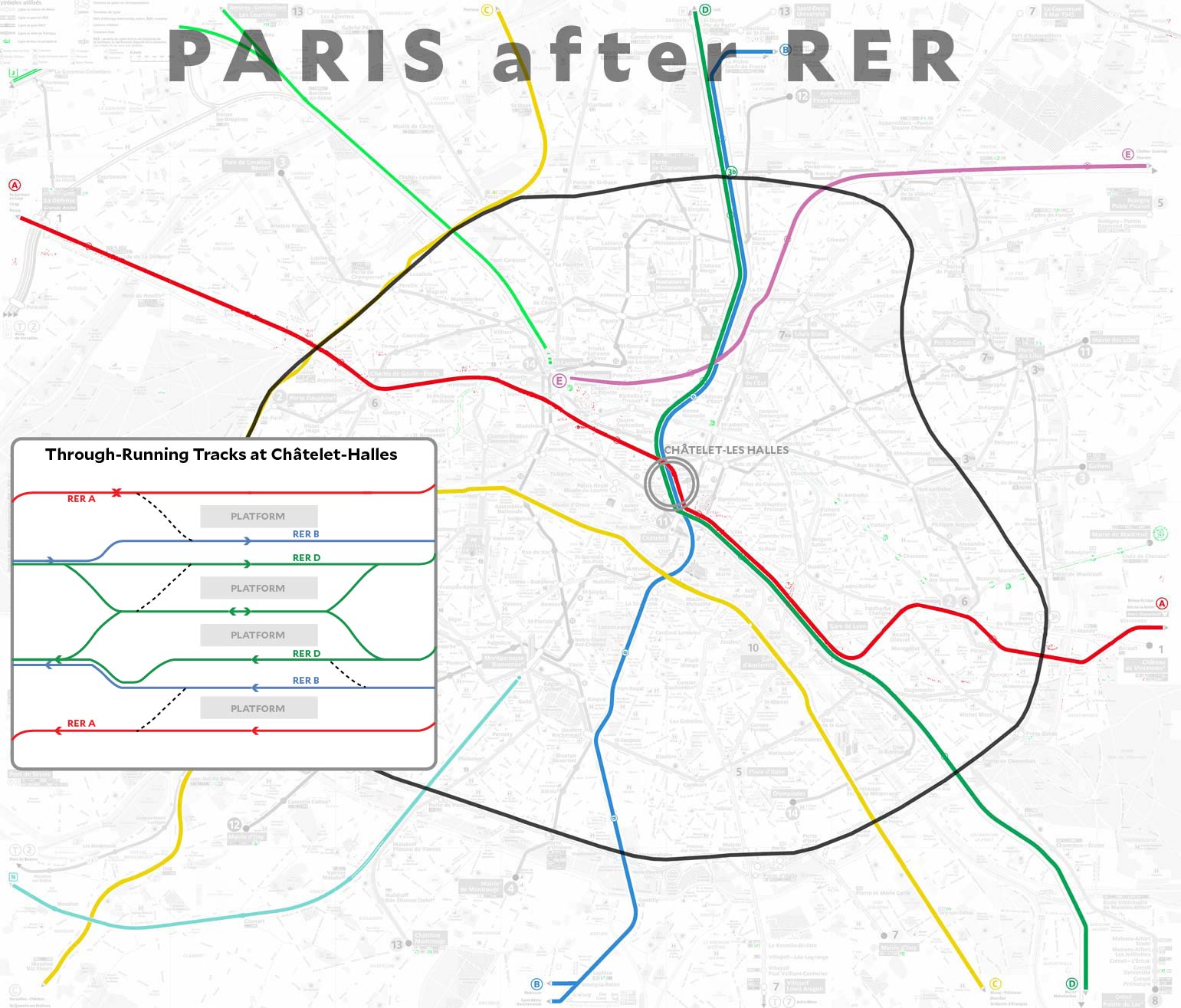 Paris before the RER and after. Before Paris' cur­rent com­muter rail sys­tem was devel­oped, sub­ur­ban rails ter­mi­nat­ed at the city cen­ter. Now with its RER sys­tem, the com­muter lines use through-run­ning, with rail yards and ter­mi­nals at its out­skirts. Trains pass through the busi­ness dis­trict areas, name­ly at the Châtelet — Les Halles Station, where trans­fers are avail­able between three com­muter lines and six sub­way lines.
Philadelphia, before through-run­ning (left), and after (right). Before the estab­lish­ment of through-run­ning in down­town Philadelphia, the Reading and Pennsylvania Railroads both ter­mi­nated in the city cen­ter. With the con­struc­tion of the Center City Tunnel in 1983, the two lines were linked, with the inten­tion of estab­lish­ing through-run­ning at the busier down­town sta­tions.
Paired vs Non-Paired Through-Running
Paired through-run­ning requires phased imple­men­ta­tion of a non-paired sys­tem. It elim­i­nates the use of ter­mi­nat­ing tracks in the cen­tral busi­ness dis­trict, but the last stop on all tran­sit lines remains the same. This requires a phys­i­cal tran­si­tion of agen­cies and train con­duc­tors at those final des­ti­na­tion sta­tions because dis­parate agen­cies are "paired" through the use of the same rolling stock.
Non-paired through-run­ning allows agen­cies to keep their cur­rent rolling stock by con­tin­u­ing trains through the city cen­ter to new ter­mini in the city's out­skirts. In New York, trains ter­mi­nat­ing at Penn Station would instead ter­mi­nate at sta­tions out­side of Manhattan. In ReThinkNYC's pro­pos­al, the­se new ter­mi­nal sta­tions would be Secaucus Junction and Port Morris, with a through-sta­tion at Sunnyside.
For exam­ple, LIRR's Montauk Line would con­tinue through Penn Station and ter­mi­nate in Secaucus, New Jersey, just west of Manhattan. NJ Transit's Bayhead Line would con­tin­ue through Penn Station and ter­mi­nate in Port Morris, Bronx. Neither agen­cy would be pressed to over­haul its oper­a­tions or rolling stock, and Penn would see more effi­cient ser­vice. In a non-paired sys­tem, it would be pos­si­ble to make long term plans for imple­ment­ing paired through-run­ning and any future over­hauls that the city's sys­tem requires.
A train arriv­ing from the east ter­mi­nates on one plat­form, and a train arriv­ing from the west ter­mi­nates on anoth­er plat­form. Each train changes direc­tion, return­ing to where it orig­i­nat­ed from.
Paired Through-Running: The same train serves all west­bound pas­sen­gers, and a sec­ond train serves all east­bound pas­sen­gers.
Non-paired through-run­ning: Westbound trains arrive, drop off and pick up pas­sen­gers, and move on, still west­bound. Eastbound trains do the same. The trains do not share ser­vice sched­ules, plat­forms, oper­a­tions, but can stag­ger their ser­vice along the same tracks, and use the same rai­l­yards.
Implementing Through-Running: Penn Station
How to bring Through-Running to Penn


Widening of plat­forms is pos­si­ble with­out a realign­ment of tracks, sav­ing time and resources.
The ReThink plan can incor­po­rate AmTrak's con­struc­tion of Moynihan Station, while elim­i­nat­ing the need for Penn Station South.
Amtrak's cur­rent pro­pos­al squan­ders the oppor­tu­ni­ty afford­ed by the new tun­nels by con­struct­ing a new ter­mi­nal just south of Penn Station. Not only does this elim­i­nate the pos­si­bil­i­ty for sym­met­ri­cal ser­vice at Penn, but it cuts off Long Island and the Bronx from the ben­e­fits of future growth and devel­op­ment.
ReThink's Phased Implementation of Penn
ReThink Studio has stud­ied the fea­si­bil­i­ty of phas­ing this project, and con­cluded that with the com­bined oppor­tu­ni­ties of the new Gateway tun­nel and Moynihan Station, through-run­ning is not just prac­ti­cal but crit­i­cal to improv­ing com­muter ser­vice through­out the region.
ReThink Studio's phased imple­men­ta­tion of through-run­ning at Penn Station does not inter­rupt ser­vice, but pro­duces wider plat­forms, more ver­ti­cal access, and more capac­ity. (Click to expand)
Existing Conditions & Compatibility
For paired through-run­ning to work, the equip­ment (rolling stock, pow­er require­ments, plat­forms, etc.) must be com­pat­i­ble between rail sys­tems.
The New York City com­muter rail net­work includes both elec­tri­fied and non-elec­tri­fied lines. Diesel loco­mo­tives cur­rently serve the non-elec­tri­fied por­tions of the sys­tem, but can­not oper­ate in tun­nels and are unable to use the elec­tri­fied cate­nary pow­er sys­tem. "Dual Mode" loco­mo­tives are able to run on both pow­er sources and are there­fore used on diesel lines con­nect­ing into Penn Station.

Dual mode equip­ment pro­vides excel­lent per­for­mance and oper­at­ing flex­i­bil­ity in hybrid sys­tems, which allows for elec­tri­fi­ca­tion to be phased in over time. Versions of this equip­ment have been oper­at­ing for many years in New York, and a new gen­er­a­tion of dual mode loco­mo­tives is oper­at­ing suc­cess­fully in Montreal and New Jersey.

Non-paired through-run­ning offers var­i­ous ben­e­fits for the New York City region. While there are sev­eral equip­ment incom­pat­i­bil­i­ties between the NJT, LIRR, and MNR net­works, along with vary­ing high and low plat­form heights, non-paired through-run­ning allows for all of the dif­fer­ent oper­at­ing stan­dards to be sup­ported in the urban core. Each agen­cy will be able to keep its rolling stock until the city phas­es into all elec­tri­fied tracks, after which paired through-run­ning will be pos­si­ble.
Paired through-run­ning requires phased imple­men­ta­tion because dif­fer­ent pow­er sources are cur­rent­ly being used. As new rolling stock is pur­chased, it can be equipped to oper­ate on mul­ti­ple lines. As lines under­go rou­tine repairs, pow­er sys­tems can be stan­dard­ized.
Across dif­fer­ent com­muter lines, plat­forms cur­rent­ly exist at two dif­fer­ent heights. The pur­chas­ing of new rolling stock in a paired sys­tem will have to accom­mo­date both plat­form lev­els.
Previous Through-Running Proposals
A shared prin­ci­pal in all through-run­ning pro­pos­als is the con­cept of "paired through-run­ning." There are, how­ever, sev­eral obsta­cles to imple­ment­ing through-run­ning in Greater New York City. The fea­si­bil­i­ty of the­se plans is based on phas­ing of imple­men­ta­tion, and this is where the cre­ation of a non-paired sys­tem makes it pos­si­ble for paired through-run­ning to be used in the future.
Numerous pre­vi­ous pro­pos­als have attempt­ed to rec­on­cile the­se obsta­cles to no effect, often because they fail to account for the prac­ti­cal con­cerns involved.